http://archives.jnonline.com/

DANNY RASKIN
Summer 2000
Praiseworthy
Hong Hua in Farmington Hills has all the elements for unforgettable dining.
Danny Raskin / Local Columnist
The relaxing atmosphere, spotless cleanliness and outstanding regional food are three aspects most often praised by its customers.
The head chef is a partner ... and with validity takes much pride in the verity that all products used in his cooking are fresh with a high quality not seen at too many other places.
Food preparation at the new Hong Hua Chinese restaurant on Orchard Lake Road, about a 1/2 block north of 12 Mile Road, is mainly Cantonese and Szechuan ... but very much in a haute cuisine sort of way.
Seating is for about 180 in three softly elegant rooms with contemporary decors of cherrywood walls, subtle wallpapering, padded chairs, beige linen tablecloths, burgundy linen napkins, main dining room padded booths, etc. ... One wouldn't know it as a former Bill Knapp's restaurant.
It is many light years away from most other Chinese restaurants ... The true Hong Kong authenticity of Hong Hua rings out with numerous dishes not seen elsewhere ... or seen at few other places.
Opening was this year on June 9, and since then, nothing but raves have been given for its very fine and exotic dining cuisine.
There are no combination dinners ... Authentic Cantonese and Szechuan Hong Kong serving is a la carte, or no less than 90 per cent so.
The menu listings of items are printed in English, Chinese and Japanese ... and some of the tables, especially the eight in one of the rooms, have those very handy Lazy Susan rotating platters for cylindrical rolling around of dishes in roulette-style.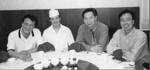 The owners ... Shetwai Seto, Danny Yu, Gary Yau and Peter Chan, pack in 47 years of restaurant experience between them ... Shetwai, Danny and Gary count 20 ... and Peter, whose chefing has brought him prominence in Hong Kong and Montreal, where the four still have their fine Keung Kee restaurant in Chinatown, 27 years ... He was 17 when beginning his cooking career ... later becoming the main chef of the Far East Business Club in Hong Kong, where the wealthy businessmen and their families enjoyed the privilege of having dinner.
The quality food and excellent ingredients are a bit more expensive than the norm, but the accomplished and exacting preparation of these rare dishes is well worth the price difference.
Hong Hua is open for lunch and dinner seven days ... Monday-Thursday, 11 to 10:30; Friday, Saturday and Sunday, 11 to midnight.
Dishes you won't find anywhere else are a big feature ... Like, seafood with macadamia nuts (scallops, shrimp, crabmeat mixed with the nuts) ... or the very spicy baked squid stuffed with shrimp mousse ... or the minced beef and egg white or shredded duck and mushroom ... both in a thick soup.
Not too many places have the fried rice with shrimp in cream sauce and shredded chicken in tomato sauce (all one dish) ... Or the excellent presentation of fried rice with diced chicken and hunks of pineapple ... with a fresh whole pineapple cut in half for use as a bowl and filled with the tasty fried rice.
They're not on the menu, but ask whoever is there, Shetwai, Danny or Gary and they'll have Peter make them for you ... Dishes like, sliced chicken with Chinese mushrooms and peapods ... and shrimp and scallops with asparagus.
A big vegetarian favorite is the very palatable Shitake mushrooms wrapped in a bean-curd skin and served with Chinese broccoli.
Among the top seafood sellers since opening have been the stir-fried scallops with asparagus; steamed prawns with garlic; and deep-fried prawns with pepper salt ... Hong Hua's mixed seafood with tofu in hot pot is cooked completely different than at other places ... Because of this, there appears to be a stronger taste enhancement.
Also on the best sellers list at Hong Hua are standards like shrimp in lobster sauce, sesame chicken and General Tao's chicken.
A couple of other seafood dishes you won't find anywhere else are the very lightly-battered grouper and vegetable, and steamed grouper fillet with Chinese mushrooms and yu toy (Chinese greens) ... both excellent dishes ... To my knowledge, the yellow grouper used at Hong Hua is not found in other Chinese restaurants.
Few places have the stir-fried chicken with chunks of pineapple and ginger ... or the whole sirloin steak chopped into sections that make up its stir-fried beef tenderloin ... or deep-fried black cod with black bean sauce on a hot sizzling plate.
People love the beef short ribs with pepper salt, which comes very spicy ... but can be gotten without being hot to the taste ... or prepared according to a person's tolerance ... And the braised Shitake mushrooms ordered regularly from Toronto, on peapods and topped with bamboo and oyster sauce.
For a flavor-treat, call Hong Hua ahead and ask if there is any braised chicken with wonton soup ... The 1/2 chicken and soup are steamed for six hours to bring out an excellent taste and chicken tenderness ... The wonton are put in about 1/2 hour before serving ... This is yet another Hong Hua-only dish.
And there's the wonderful lettuce wraps, too ... diced meat (chicken or duck), water chestnuts, black mushrooms, chopped dry noodles and onions, topped with pinenuts ... This very fine dish comes with fresh cold lettuce in which people may first put Hoisin sauce on the bottom, then the very delicious mix, wrap and eat with much delight ... It is usually served as an appetizer, but can also be gotten as a dinner entree ... There's also the tasty seafood salad rolls appetizer that are wrapped in rice pancake ... a wonderful dish that, like so many others at Hong Hua, is also drawing many raves.
Servers, both men and women in tuxedo garb, are very gracious and helpful .... A nice touch is plates taken away, and fresh ones brought that are still hot in a very sanitary manner.
To say that Hong Hua is in a distinct class wouldn't be a far-off statement ... Becoming noted for its varied and delicious dishes that cannot be gotten anywhere else, and beautifully presented ... or perhaps available only at very few places ... make it a must on discriminating dining lists ... A consummate place to thoroughly enjoy Chinese dining ... worthy of the praise it is receiving.